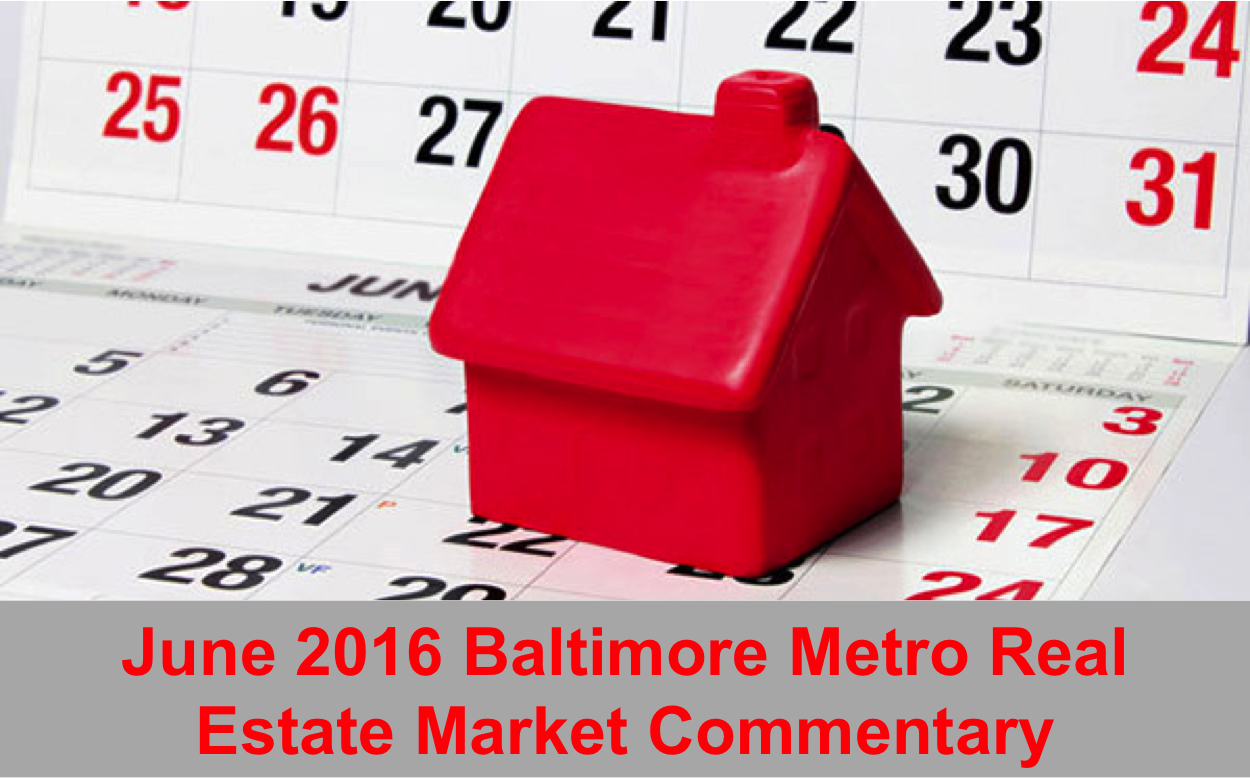 Baltimore Metro
June 2016 enjoyed almost $200 million more volume, 11.1% more units closed, and median and average prices jumping more than $15K. New listings were up 5.8%, 317 units, but did not keep pace with the 430 additional sales, thus driving the months-to-absorb down to its lowest level, 3.0 months, since October 2006. The median days on the market also show the frenzy by coming in at 24 days. The following table shows that more help came from the move-up market than in the typical first-time buyer price range, although the first-timers contributed as well.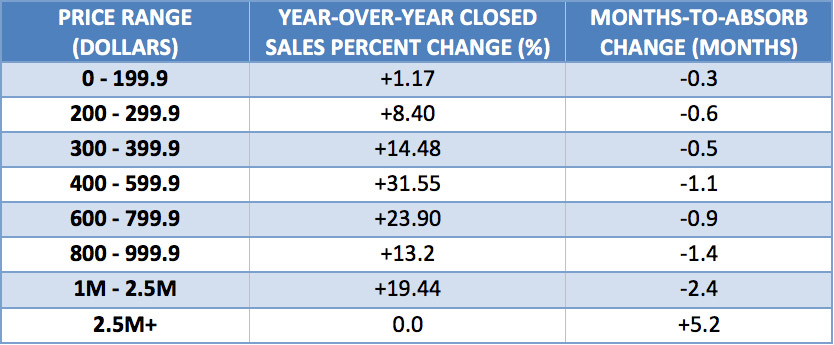 Hopefully this is an indication that the discretionary market is getting energized whether it is due to surfacing from underwater, becoming empty nesters or employment relocation.
Baltimore City
Baltimore City's buyers must be seeing, living, and embracing a different world than what the national media and politicians are "reporting" to the rest of the country. June saw the most closings, 914, since May 2006, the lowest months-to-absorb since October 2005, the tightest market has moved up to the $300-$400K price range, and it is a sellers' market up to the low $700s. The local media is at least talking about the BILLIONS in development that is taking place and is in the pipeline. All types of residential real estate are enjoying the ride with the following absorption rates: detached, 3.7 months; row house/attached, 3.6 months; condos, 3.6 months. The median days-on-market was 28 days and 100 more contracts were ratified this June versus last, which bodes well for the near future. We are also encouraged by the City's employment growth this year, which is third in the State behind her neighbors, Baltimore County and Anne Arundel County.

Baltimore County
The best June since 2005: the fastest absorption rate, 2.8 months, since December 2005; the median days-on-market of 25 days; and sellers getting 1.3% closer to their asking prices than they did last year. No longer is the lower end of the market carrying the total burden, although it is still doing its part. Over $600K closings were up 77.5%, and their collective volume was up 97.9%. The wall is being pushed up into the $900s for the first time in recent memory, so the average price is up over 11%. This June's transfer taxes and recordation fees were collected on an additional $61M in closed residential transactions. Who gets the credit: the politicians, the economy, Lady Luck, or those hard working Realtors®?
Anne Arundel County
Not conceding anything to Baltimore County, Anne Arundel's June volume was up $68.5 million, 20.3%, while the units were up only 13.6%, confirming that patience is starting to pay off for many of those high-priced listings that have languished on the market. June saw both volume and units for closings over $600K grow 37%, while the days-on-market are now only about three weeks longer than the overall market. It is still not time for those 43 sellers listed for more than $2.5M to rejoice, however. Today's pace at the rarified end of the market will take more than three years to absorb the inventory. More activity may help, and the 141 more contracts this year are certainly a positive sign.

Howard County
Howard keeps squeezing a little more out of a little less with volume up 8.3%, units up 11.9%, average days-on-market down 11 days to 40 and the median just a half day over two weeks. The absorption rate was 2.2 months and there were 324 new contracts, 45 more than last year. Builders have recognized how tight the market is but unfortunately many of their transactions are not included in the multiple listing service data. We do know that in May the County issued 152 Use and Occupancy permits and MRIS, our mls, reported only 18 new home closings. The June numbers were 93 and 26. The land records reconcile this but their data lags about 45 days. Sellers, particularly in the $800K plus price range must recognize the new home competition.
Carroll County
The June units closed equaled the June 2005 numbers and although it was two homes less than last year, it was accomplished with less inventory yielding a decade plus best absorption rate of 3.2 months. However, the average price is still running $33,000 behind 2005 and it is still a buyers' market above $700K. This June's contracts did include 14 listed for more than $600K and they had an average days-on-market of 106 so we may be seeing help for the high end and some cleansing of stale inventory.
Harford County
The most units closed in any month since August 2005 before millennials dominated real estate prognosticators' drivel. Harford was also able to start chipping away at its $600K plus inventory but still has work to do. Volume was up 22% on increased closings of 15% driving average and median price up 6.3% and 8.3% respectively. Contracts were up only 4% but that may be a result of the inventory shrinking 14%.

The overall message is that the market is thriving despite low inventory, making this one of the best times to sell in many years. We've seen so many people now in a positive equity position without even realizing it. If you're thinking of selling, contact me today!