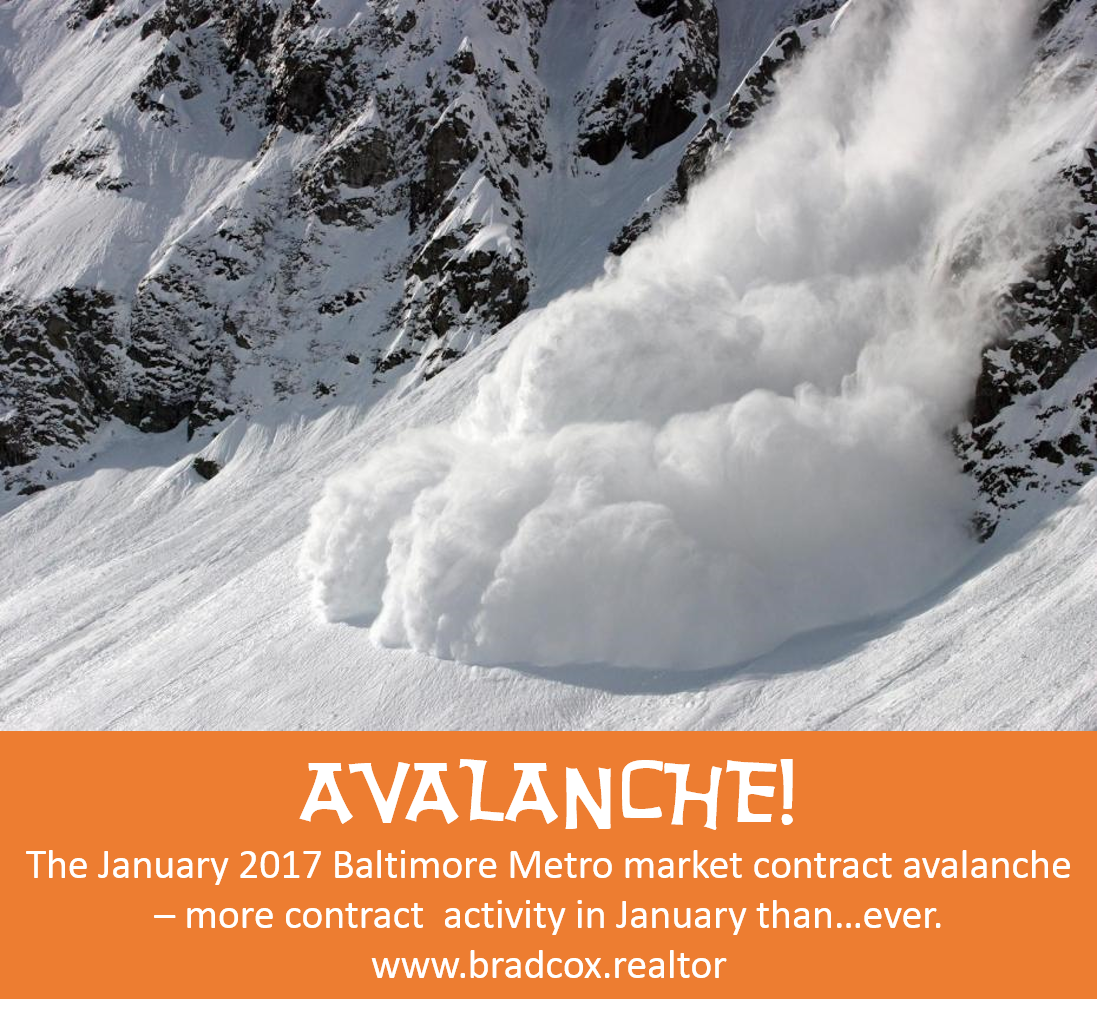 Baltimore Metro
The big story isn't the dearth of snow but the avalanche of contracts. This January saw more ratified contracts than any other January, ever (see Graph 1 below). The rest of the numbers point to a great spring market and a chance to get everyone to an equity position. The aggregate average and median prices don't mean much due to the dissipation of distressed property sales; almost a hundred fewer this January compared to last, and an increase of about 150 standard transactions, and furthermore, 97 of the 123 additional sales were attached homes. Therefore, your home is probably worth more this year than last, but use like-kind comparables to determine that.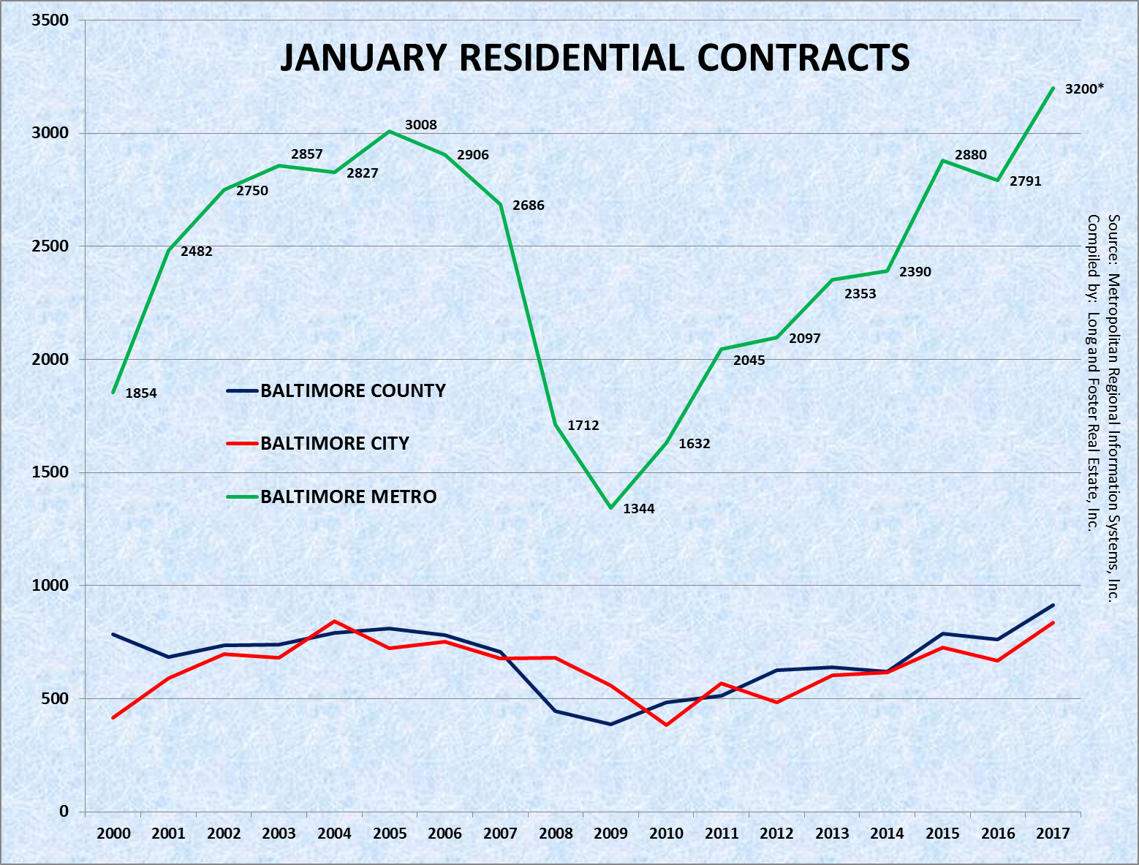 More good news – new listings were up 9.4%, days on market were down over a week, and homes closed 2.5% closer to asking price this year. The obstacle will be the lack of inventory since 4.1 months-to-absorb the present inventory at the present sales pace does not set us up for an orderly spring market but one with escalation clauses and price improvements.
Baltimore City
The City saw 94 (20.5%) more homes sold this January than last, for an increase of $13.5 million or 38.3%. The same number of distressed properties sold year-over-year, so the increase was all from standard transactions and they were spread over all price ranges up to $1M, with welcome activity between $400K and $1M that was not there last year. Ratified contracts were up 22.7%, and although new listings were up, $300-$400K buyers need more inventory. The average selling price got 1.7% closer to the average original list price, which will encourage upward price movement.
Baltimore County
This January there was $11,284,000 less activity in sales over $1M than last year. If we ignore that price range the average would go up $15,000, but of course there is also the fact that 50 fewer distressed properties sold this year. Contract activity was up 17.6%, and the same number of homes listed for more than $800K (10) went under contract this year as last. The overall absorption rate was a seller-friendly 3.6 months, and the median days-on-market was a very respectable 47. Inventory, although tight for all housing types, is particularly acute for townhomes, which have only 2.4 months of inventory at the January sales pace.
Anne Arundel
All good but a little different than January 2016: detached units shouldered all the unit gains plus some, yet townhomes saw a 6.6% average price increase and detached properties advanced only 3.7%. Days-on-market was down over two weeks and sellers are getting closer to their asking price. Everything priced below $400K is a hot item with condos in particular demand. Contract activity was up 11.6%, and listing activity was 20.1% better than last year, but inventory will still be short to fully take advantage of the spring market. Anne Arundel's share of the $1M+ homes sold in the Metro area was 70%, which was better than average and hopefully a sign that the high end will get some traction this spring. Typically we see the high-end sales warm up in Northern Virginia and Montgomery County and then move up through the Baltimore Metro jurisdictions starting in the south.
Howard County
Closings looked great with units up 32.6% and volume up 43.7%, however Howard was the only metro county that had fewer new listings this year than last. The result, particularly the $400K-and-less townhome market, has well under 2 months of inventory,and the average price of all townhomes was up over 8%. Condos also turned in a stellar performance with closings up 24% and average prices up 23%. Selling prices across the board got 1.9% closer to list price.
Carroll County
Carroll sold one property for more than $1M in all of 2016 and matched that again in January. That is a good thing but it makes the average price increase look better than it really was. The 117 acre farm sold for $1,100,000, and if you spread that over the other 125 transactions, it adds $8,730 to the average. Regardless, we still saw price improvement, DOM improvement, and sale-to-list price improvement.
Harford County
Harford did not enjoy the southern influences the way other Metro jurisdictions did. Units were down almost 15% and volume was down almost 12%. Overall prices were up 3.5% but when you consider that there were 48% fewer distressed properties transacted, the standard transaction price was up only 1%. Contract activity was also an anomaly for the region beating last year by only three.
All in all we are positioned for a robust spring market in the Baltimore Metro area, so if you're thinking about buying or selling, give us a call to discuss your options. Buyers - the key to your success will be getting a strong pre-approval from a solid local lender so you can act quickly with all of the competition that will out there.
Why Does the Home I Want to Buy in the Baltimore Metro Market Have Ground Rent (And What the Heck Is Ground Rent, Anyway)?