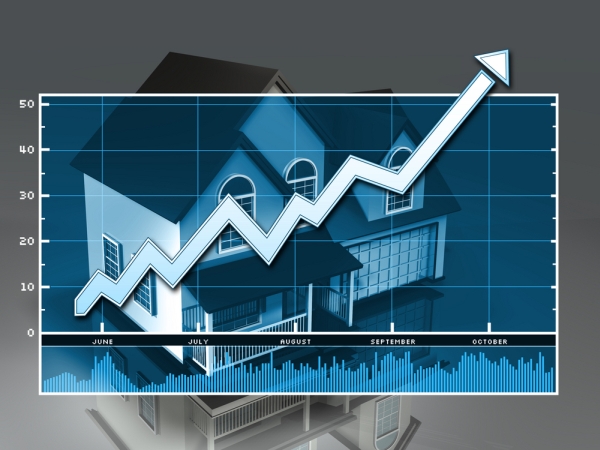 Baltimore Metro
The Metro area was solid with $23 million more sold than in February 2016 and all other metrics except units sold trended in the direction they were supposed to. The average sold price was up 5.6% and median price was up 2.2%, but it was primarily due to the fact that there were 151 fewer distressed properties closed this year. The average price of a non-distressed property actually fell from $259,400 to $257,325. We can rationalize this by citing the mix: townhouses were 1.5% more of the mix and condos were up 2.8%, leaving single family detached to absorb the 2.8% drop. The number of units closed was down by 37, which looks pretty good considering that inventory was down year-over-year by 1,626 homes or 15.4%. Months of inventory by housing type: SFD, 4.4; THS, 3.6; Condo, 3.7. The crossover point from a seller's market to a buyer's market was about $600K for SFDs and $500K for towns and condos. We feel confident that these will continue to move up a bit in the near future.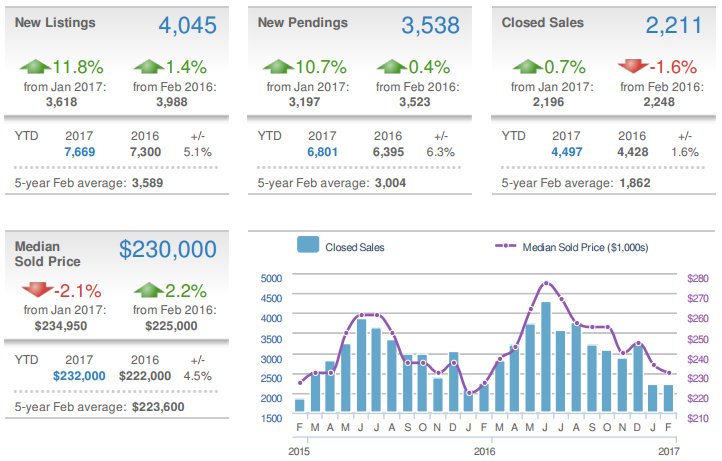 Baltimore City
The City has her challenges but the residential real estate market has not been one of them lately. We saw $10 million more closed this February: 40 more units, 37 fewer distressed properties, and 77 more standard property transactions; average price up 17.4% and median price up 18.2%; average days-on-market down 11.6%; and sellers getting 2.1% closer to their asking price. The party will go on, too, with the most contracts this millennium. Inventory, though, is tight but we did see 1,000 new listings in February. Just to temper some of the city slicker euphoria, there was $7,525,000 more volume from $1M+ sales this February, which did contribute an extra $12,685 per transaction to the average price (Leroy Merritt's pier home helped at $6,250,000).
Baltimore County
Closings and volume were off a little, but so were distressed property sales. Non-bank-mediated sales, which we call standard sales, were actually up 1.5%, total closings were off by 20, and there were 30 fewer homes settled for less than $300K, so don't pay too much attention to the 2.5% average price increase. Also, consider that 31 fewer detached homes sold, 9 more towns and 2 more condos. The inventory, or lack thereof, has something to do with the dynamics of the market. Last year, February 2016, there were 118 homes on the market listed between $600K and $800K, and 11 sold. This year there were 155 on the market and 23 sold. Overall, 89 (9.5%) more homes were listed and 35 (3.8%) more contracts were ratified. This is in keeping with the earlier start to the "spring market," but also affirms that the wall continues to soften, leaving hope for high end sellers. The 3.5 months of inventory (it's only February) would suggest real price increases are waiting to pounce despite interest rate movement.
Anne Arundel County
Standard transaction closings led the good news by coming in 8.3% ahead of February 2016, resulting in a volume increase of 9.75% and overcoming a 34.4% decrease in bank-mediated sales. Average price was up a whopping 13.1%, helped by a $6M+ sale, and the median price improvement wasn't far behind, advancing 8.9% mostly due to the abatement of the distressed property sales. New listings were up a little and new contracts were down a little. It is significant to note that the absorption rate for $600K-$800K listings dropped in the past year from 12.2 months to 7.0 months, indicating that discretionary buyers and sellers are starting to play in the sandbox.
Howard County
We think that we may have been preaching too loudly that the lack of inventory in Howard for the past few years was a problem and too many sellers paid attention in econ 101. The result seems to be overpricing. A market that averages just over 2.6 months of inventory should not see its average days-on-market come in over three months, its median days-on-market over two months, and its sell to list ratio hover around 95% before seller contributions. One possible explanation is that new home construction and transactions not reported to the multiple listing service (the data source for most numbers used in this commentary) are taking up the slack. There were 81 single family building permits issued in January, 25 more than the prior January, and a look at the recorded deeds so far this year indicate an average new home price of just over $725K. Howard's market is influenced by both D.C. and Baltimore's metros, so it ends up not looking like either one. The numbers: volume off 11.6%, units off 14.2%, inventory off 22.6%, contracts off 2.6%, and average and median prices up 3.0% and 7.9% respectively.
Carroll County
Carroll's market is behaving consistently although volume and units retreated primarily due to 15 fewer distressed property sales. The jury is still out as to whether the immediate future will look so good, though, as new listings were down 17.4% and contracts were down 14.4%. A few bright spots: days-on-market came down almost three weeks, and the ratio of average selling price to original list price moved up to 95.8%.
Harford County
The market performed admirably up into the low $400s, which is an improvement of about $50K over last year. The average and median prices slid a little but were influenced by nine fewer detached home sales, 12 more condo sales, and eight more town sales. The individual property types each saw price improvement. The inventory is the lowest it has been since July 2005 and down 18% in a year, pushing the absorption rate down to 4.4 months, the same as February 2006.
As always, real estate is hyper-local, so if you want to discuss the market in your neighborhood to get an idea of your home's current value, just give me a call. We do need the inventory, so if you're thinking of selling, let's chat about your options.