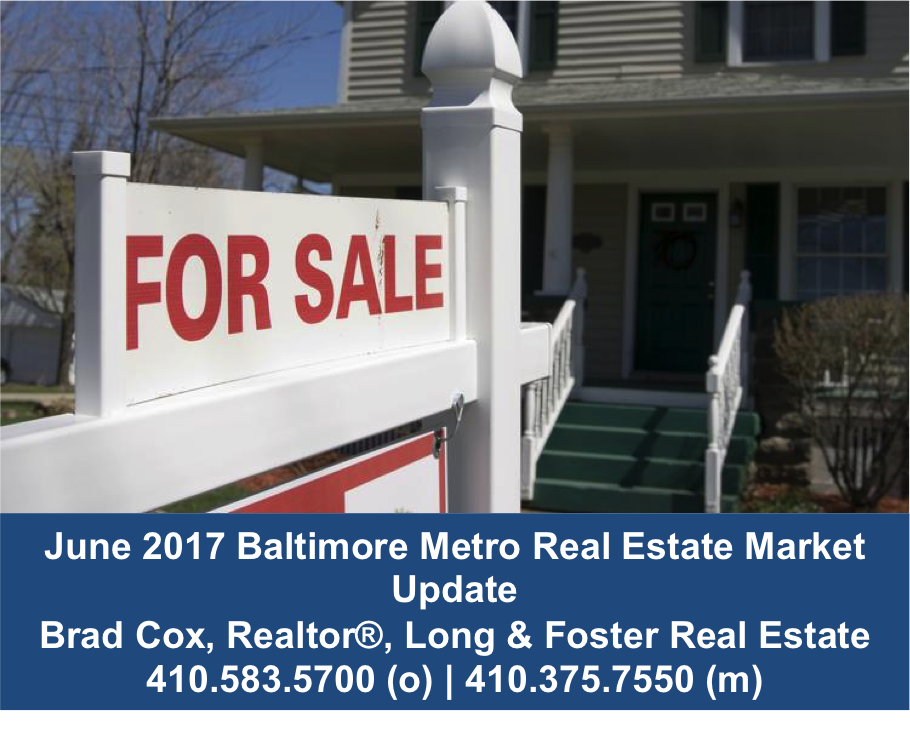 Baltimore Metro
The Baltimore Metro real estate market is doing just fine. Overall, the number of homes closed was up 4.8%, with the number of bank-mediated sales diminishing 20.3%, and the number of standard transactions increasing 9.0%. This shift toward the positive drove the average price up 1.7% year-over-year, but the average standard transaction actually decreased 0.4%. However, townhome prices rose 5.9%, single-family detached prices rose 1.8%, and condos dropped 3.2%. Ah – the power of the millennial first time buyer. Surprise – they don't buy million dollar Inner Harbor condos. They don't buy McMansions but they do buy town/row homes and garden condos. Therefore, your house value probably went up more than the 1.7%. Houses priced under $400K had the most demand pushing their values. Everything else was good too: contracts up, sell to list ratios up, and median days-on-market down to a paltry 19 days.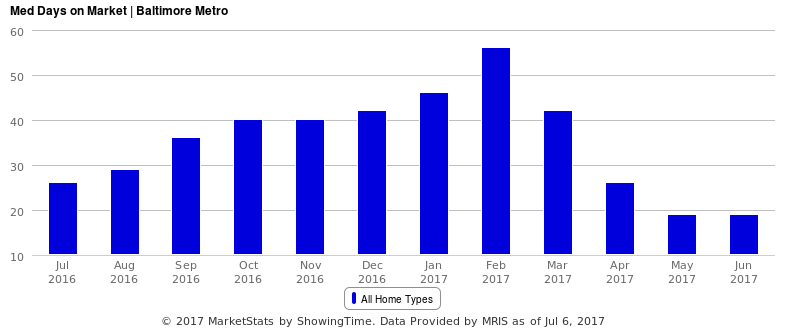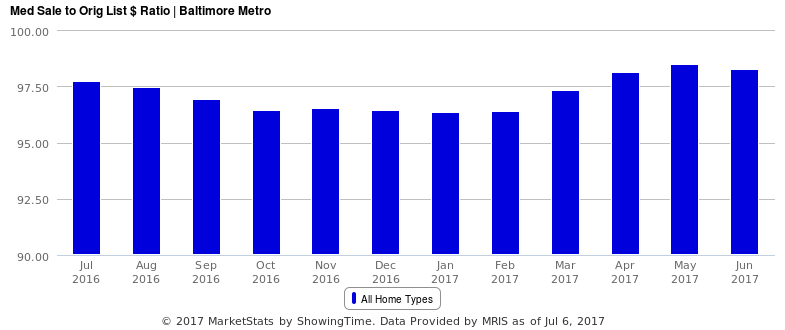 The question we are being asked regularly now is whether or not we are in a new bubble. Look at the graph below (BM and DCM Ave. Price '07 to '17 by Qtrs). Price increases are driven by demand and demand is driven by jobs. The Metro has had steady job creation driven by the federal government's presence with Aberdeen Proving Grounds, Fort Meade agencies, and Social Security; the education and health sectors; and our defense contractors (i.e., Northrop Grumman). We have a tech industry but it is not the player here that it is in the ultra-high appreciation areas around Seattle and San Francisco. Also, falling interest rates usually result in price increases but they have been mainly flat. Furthermore, we know that our dealing with distressed properties lagged behind 90% of the country, holding prices in check while also giving rehabbers and investors an opportunity to add value to properties. Bottom line: We are not experiencing the population or job growth of some others who are driving the national conversation about another bubble. Residential real estate is local and although we may not hit the same highs, we miss the lows of the headline grabbers, and that's just fine.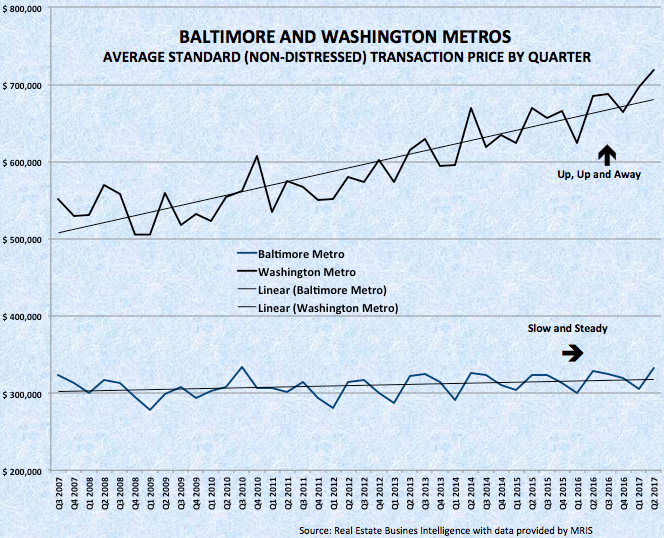 Baltimore City
Baltimore City continued to realize its New Year's resolution to keep year-over-year volume increase percentages in double digits with an extra $20M or 11.2% this June. Distressed property sales were down over 9%, and standard transactions were up over 12%. The majority of the gains were in town/row houses with 54 more closed this year, whereas single-family detached saw only an additional 17 and condos only 1. Contract activity increased a Metro-best 7.75%, and median days-on-market dropped to 26 days while absorbing 92 listings that had been around for more than six months (a good thing). When was the last time we saw ten City sales between $800K and $1M in one month?
Baltimore County
The last six months have seen $85M more closings than a year earlier and almost $30M of that was June's gift. This sales pace leaves only 2.2 months of inventory with a seller-friendly market climbing into the $800Ks for the first time in many years. Despite the dearth of inventory, contract activity was up 1.5% and buyers were presenting fewer contingencies to make their contracts more attractive. In fact, the 1,144 contracts were the most ever for June. The inventory reduction, 15.4%, was primarily because of the reduction in bank-mediated offerings. Over 400 of the year-over-year decrease of 491 properties were in the <$300K segment, 86 in the $400K-$600K, and above $600K there was an increase of nine properties. The median sale price was up 6.3%, and the average advanced 2.9%. Days-on-market fell by two weeks with more than 50% of the ratified contracts being for houses that were on the market for less than three weeks.
Anne Arundel
Anne Arundel continues to lead the Metro in volume at $425M+ in June and in new-home construction. The average price was up only a quarter of a percent because of 46 more townhome sales this year and only 13 more single-family detached sales. Contract activity fell 6.9%, which along with Carroll bucked the regional upward trend. Maybe it was because agents were busy closing more than 1,000 (1,056) transactions for the first time in over a decade. Anne Arundel continues to also lead the Metro in population growth due to about 3,000 more births than deaths each year and both domestic and international migration supplemented by the armed forces.
Howard County
Howard may not beat Anne Arundel in absolute numbers but in percentage growth she has no local peers: population, household income, and home value. This is accomplished with the fewest months of inventory, 2.1 months, and the highest sale to list price ratio. Townhomes are the scarcest with less than 1.5 months of inventory and a median days-on-market of 11 days. This lack of inventory actually curtailed the number of sales, which fell 2% and fueled a 5% price increase. The suburban D.C. influence is apparent.
Carroll County
The activity center of the Carroll County market is in the single-family detached $200K - $400K segment, where almost 50% of all sales occur. We recognize that this is a detached market that accounts for 85% of all sales, and the market keeps nibbling a little further up the price ladder each month. We expect this trend to continue in the near future. Both average and median prices beat June 2016's by 7%, and the total volume was up almost 16%.
Harford County
The not-so-rosy aggregated numbers are misleading. Volume was flat as units went up by 2.9%, driving average and median prices down by 2.85% and 3.04% respectively. But wait, there's more – Condo sales with an average price of $178,500 were up 65%, and there were 17 more townhome sales and 25 fewer single-family detached sales. Maybe first-time buyers have surfaced and empty nesters are joining them in the condos where 80% are selling for less than $200K. Activity begets activity so there is no surprise that contracts were up 4.3%, the median days-on-market was 17 days, and the average sale price to list price ratio was 97.6%. The last figure may be a little misleading because most often first-time buyers get seller help by way of subsidies that are not reflected in the SP:LP calculation.
Remember, as always - real estate is hyper-local. If you have any questions about the activity in your neighborhood and how that may impact prices, contact me for a free consultation.