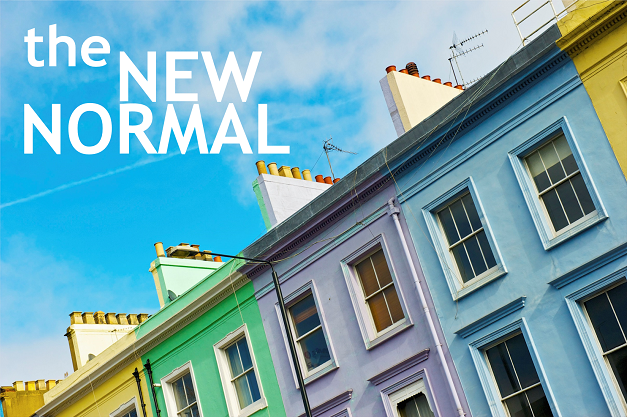 Baltimore Metro
The "new normal" market is starting to look like the traditional seasonal market from before the craziness of 2003 through 2012. The number of standard (non-distressed) transactions was up 3.2%, whereas the number of distressed sales fell 31.6%. Detached sales were off 7.8%, while townhome sales were up 0.1% and condo sales shot up almost 16%. Even with the change of the housing type mix, the average price advanced 2.65%, which is consistent with Core Logic's most recent report. This is significant because the D.C. Metro was up almost 40% more than Baltimore. This pales in comparison to some of the retiree meccas like Florida and Arizona where population growth is driving prices up 6 to 8% per annum. Baltimore should be just fine on its historical slow and steady path driven by the constants of our large employers. This path did give us in the 3rd quarter the second most volume of all time. The fall-off in the number of sales, 2.4%, is the result of fewer distressed sales, and in fact standard transactions were up 3.2%. This phenomenon is also seen in the contract activity.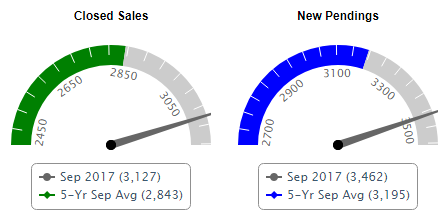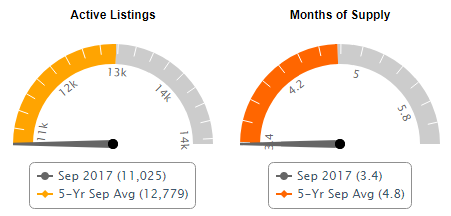 The employment numbers continue to grow (it feels like half are new real estate licensees). The population continues to grow, and we need to house everyone. Anne Arundel again leads the State in single-family construction as does the Metro in spite of D.C.'s robust market. The average price for new homes in the Metro goes from a low of $424,610 in Harford County to a high of $575,106 in Howard County. Only about half of new home sales (multiple listing service versus deed recordation) are reported to the multiple listing service so the volume and unit numbers we report here are understated. However, the year-over-year comparisons are apples-to-apples.
The market is taking on the characteristics of the traditional model that relies on demographics instead of interest rates, unemployment and consumer confidence. Millennials are replacing baby boomers in the workplace, forming families, looking at schools and not letting moving interfere with their holidays. These first-time buyers drive the move-up markets, so we anticipate a very good 2018 spring market. Empty-nesters are feeling good since they have returned to equity positions in their homes and more than recovered in the stock market. Both of these groups are primarily discretionary buyers so they drive the seasonality of the market and thankfully seasons do come and go.
Baltimore City

The City is feeling pretty good about itself and it looks like the Ravens can't damper the feeling. Maybe Amazon will cause a slight pause in the future but for the time being September saw volume up 14.3% and units up 9.4%. The average price of $172,328 tucked neatly in between that of 2005 and 2006. The 4.4 months necessary to absorb the present inventory at the September sales pace is driven by the sellers' market up to almost $600K. Distressed sales fell 25% but still account for over 18% of all sales - trending nicely but with a ways to go still. The additional 62 sales this September all sold for less than $200K, which hopefully indicates the first-time buyer segment is driving growth.
Baltimore County
Baltimore County took a little breather in September after its very productive summer as indicated by volume being down 4.9% and units being down 9.2%. However, almost 60% of the drop in units can be attributed to the 30% fewer distressed property sales, which did help push the average price up 4.8%. The standard transaction prices were up 2.3%. Inventory was down 12.7%, and ratified contracts were down 6.8%. Detached property sales were down 10% and attached property sales were down 9%. The market over $550K softened, but it always does in the fall. The overall 3.2-month absorption rate was the best, if you are a seller, since September 2005 when inventory was even scarcer. We are seeing an 11.3% increase in single-family new-home permitting, but construction activity is still more than 50% less than that going on in Anne Arundel and on a par with Howard. This is not great when you consider that Baltimore County is the big behemoth in the Metro.
Anne Arundel County

Anne Arundel saw 9 more standard transactions and 41 fewer distressed property transactions in September '17 compared to September '16. Overall the volume was down 1.9% and average price was up 2.6%. However, single-family detached average price was up 6.0%, while attached closings lost 2.2% in value due to a 19% increase in the number of condo sales at a $260K average price. Average days on the market dropped below two months, and the median days on the market was 27 days. Inventory held its own from August but was down more than 10% from September '16. Contracts still found a way to increase 8.9%, with non-contingent contracts increasing 17%, indicating that buyers are willing to take more risk when sellers have multiple suitors. The higher end slowed down but it usually does this time of year.
Howard County

Everything in the September present was good: volume up 6.0%; closings up 3.2%; average price up 2.8% ($11,614); median price up 5.2% ($19.900) due to nothing to sell except a few condos below $200K; distressed property sales fell to only 5% of the market; average days-on-market was down over a week to 45 days with a median DOM of 30 days; and sell to list ratio increasing to 97%. The downside of all this is that new pendings (contracts) fell 18.9% and inventory dropped 14.7%, yielding only 2.8 months of inventory, the lowest September absorption rate in over a decade. New construction is taking up some of the slack, but not enough in the more affordable market segments.
Carroll County

Seven more sales with four of them over $600K helped drive the volume up 8% and average price up 4.3%. Contract activity picked up 13.3% despite inventory falling 24% to about three months' worth. Distressed property sales fell 32%, and standard closings were up 8.6%. It was a good month to be in Carroll County.
Harford County
Everything looked bad until put in perspective. Volume and units were off 11% but it was the second best September since 2005 and contracts eked out a 1% gain from 16% less inventory. The $600K plus market does continue to improve albeit just a little but a positive sign nonetheless.
As always, real estate is hyperlocal. If you have any questions about the market and how it affects your neighborhood, contact me.