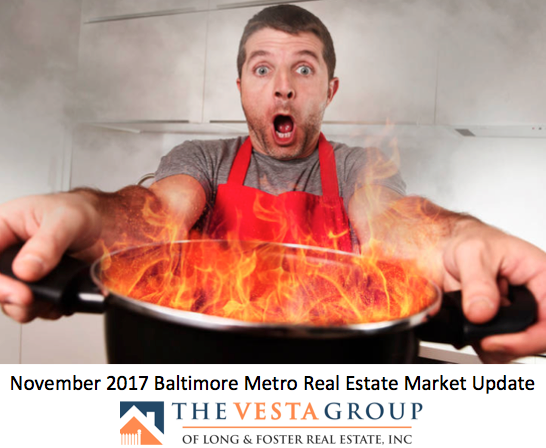 Baltimore Metro
The Baltimore Metro has been hot! Metro closed more than 3,000 homes in November for the first time since November 2006, and this year the inventory was headed down to 9,700 whereas in 2006 it was heading up to 10,900. Below $800K it was a seller's market, but above $1M, 31% fewer homes closed this year than last. The $800K - $1M range improved but stayed on the buyer's negotiating side, although we still have builders who don't report all of their sales to the multiple listing service, MRIS, enjoying some success at the top end of the market. Both average and median prices were helped by the percentage of bank-mediated sales falling from 18.4% in November 2016 to 11.8% this November. This percentage should continue to fall as the foreclosure rate fell below 1% to 0.8% this fall.
The Metro is poised for a very good spring market for a number of reasons:
The jobs picture, the driver of all expanding markets, is projected to improve as unemployment continues to decrease and wages tick up.
Housing affordability, particularly contrasted to D.C.'s pricing pendulum which is already swinging toward the stars, remains strong in our area.
The Metro's typical real estate tax burden and mortgage sizes won't cause most borrowers to say "ouch" to the proposed new tax code, at least in the immediate future.
The financial well-being of most all demographic groups will contribute - Millennials will buy, Gen X and Y'ers who got in trouble during the great recession will reenter the market, and Baby Boomers, feeling euphoric over their 401Ks and stock holdings growth will finally downsize
Surprise, there is still population growth.
Such a beautiful sight with all segments purring along. For the naysayers: a little interest rate hike will not dampen the spirit of the marketplace because what mostly drives interest rates also drives the real estate marketplace.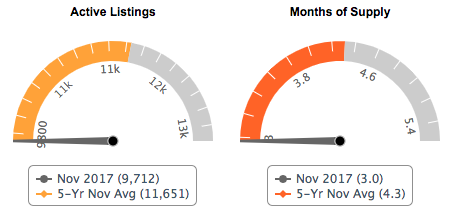 Baltimore City
The Baltimore City market continues to exceed expectations while still dealing with distressed properties representing 18% of all sales. When we take distressed properties out of the mix, standard transactions average $192,450, almost 9% higher than November 2006, 2007, and 2008. The average standard price was off last year's all time high as a result of less activity at the high end, not diminishing values. Inventory is not yet an impediment to sales but is misstated at the high end by a few packages of homes listed for the package price, $2.7M, rather than their individual values of less than $100K. Also, in the average and median and affordable conversation, we need to recognize the fact that 70% of all sales closed for less than $200K. Yes, some are shells but many are habitable and attractive to Millennials.

Baltimore County

Baltimore County saw a solid November performance with volume up 13.4%. You are probably not too happy if you are trying to sell at the high end but hang in there because the market is coming to you with ten more sales in the $600K - $800K segment this year. Standard transactions were up 20.7% year-over-year and distressed property transactions were down 40.7%. Therefore, both average and median prices advanced despite there being seven fewer sales in excess of a million dollars. The inventory being down 17.7% has also been a hindrance, evidenced by new contracts contracting 1.6% and median days on the market dropping to 28. The market growth is manifesting itself in the condo and townhome segments. Detached homes saw only two more sales, whereas condos enjoyed 23 more and towns gobbled up 36 more buyers. There is only 1.8 months of inventory for towns priced below $300K and just less than 2 months for condos priced below $300K. This tightness is the perfect recipe for price increases in these segments. This is all going on in November so we are very positive regarding the spring market.
Anne Arundel

Volume was up 4.8% but units were down 2.2%. However, standard transactions were up 3.4% and distressed property sales were down 35.7% to less than 10% of the overall market. New ratified contracts came in 10.7% below last year and inventory continued its slide. The wild card here is new construction, which is often not represented in the multiple listing service data. Anne Arundel fell to second in the state behind PG in the third quarter for single-family building permits issued, more than Howard and Baltimore County combined. Comparing multiple list new home closings to public records, 200 more new closed than reported to Bright MLS, the multiple listing service, in the first nine months of the year. New home prices in Anne Arundel average $485K giving us almost $100M in closed residential transactions not reported to MRIS. The fact that Prince Georges and Anne Arundel Counties house military and contractor employees of NSA and Homeland Security and that they are both affordable bedroom communities for D.C. is driving their growth.

Howard County

Howard has led the way in the market fight to find houses for buyers for some time now, but it is getting pretty ugly in the townhome market priced below $400K. The median days-on-market is 15 for that group and they are closing for more than 99% of asking. The last figure does not consider that first-time buyers are still getting some seller subsidy help but they often have to offer more than asking to get it. The present townhome inventory is only 1.3 months' worth at the November sales pace. The condo and detached segments are tight but not as critical as the towns; a 3.1 month absorption rate for detached and 2.1 months for condos. Inventory is down more than 15% year-over-year contributing to a 10% decrease in contracts and an increase in prices. Although 32 more homes closed this November than last, 30 of them were towns, which helped drive the overall average price down 2%.

Carroll County

Carroll just closed the highest November volume ever and had to settle for second place in units. Dividing the county in half with a North/Westminster market and a South/I-70 market, we saw huge pricing gains on detached houses: 21% in the North to $326,094 and 12% in the South to $454,804. The combine result was a 22.3% year-over-year increase in volume. Carroll is also dealing with a depleted inventory, down 18% from last year, which also curtailed contract activity by 5%.

Harford County

The Harford County market is doing well in spite of the paltry inventory. The Bright MLS-reported average price is down 4.7% to $260K, but like the other builder-friendly Metro jurisdictions, all the national production builders have staked claims in Harford keeping many transactions out of the MRIS data base. A comparison of MLS and public records of new home transactions shows that only about one third are reported to Bright MLS. The average price of a new home that is reported to Bright MLS is $434K.
As always, real estate is hyper-local. If you'd like to know how the market forces impact your home's value, contact us for a complimentary consultation.