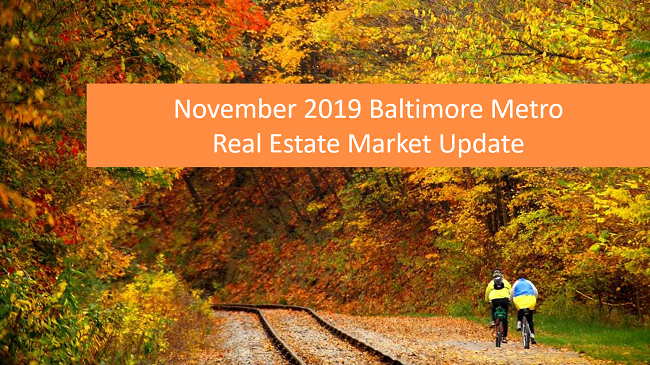 Baltimore Metro
If you look at the year-over-year numbers for the Baltimore Metro real estate market, you might think that we were headed for another housing bubble. Not so, even though the volume for November was up 17.5%, units were up 15,8%, pendings were up 5.3%, and median and average prices were up 3.9% and 2,2% respectively.
The market softened in the last two quarters of 2018, and the softness continued through the first two quarters of 2019. Since then the market has returned to good health, and although November '19 volume was 17.5% better than November '18, it was only 2.8% better than November 2017.
Units this November were 107 fewer than November '17, but bank-mediated closings this November were 151 fewer than November '17 and the average price for bank properties typically sell for 50% less than the non-bank-mediated transactions. This mix plays havoc with gross sales average and median prices. This year there were 142 fewer sales for less than $200K than in 2017, and most of those would have been distressed properties.
Lack of inventory is an issue throughout the Metro, but interest rates and good jobs are getting millennial buyers off the fence when they can find something. The $300-$400K price range in suburbia is doing exceptionally well with an average days-on-market of 24.
Baltimore City

Baltimore City is the only Metro jurisdiction where inventory has kept pace with sales for the last three years, and the number of sales this November surpassed November '18 by 29.5% and November '17 by 5.2%. You must go back to the madness of November 2005 to find more November sales. The City is still dealing with bank-mediated properties that make up 12.7% of all sales, but investors are buying them and investing rehab/renovation money in them. The volume this year was up over November '18 by a whopping 49% and surpassed November '17 by 14%. Looking back a few months it seems that the City is doing very well, but the numbers of closings this past summer were curtailed by the ransomware attack, which had the biggest adverse effect on the bank-mediated properties. This probably explains why the bank property closings have been up year-over-year the last three months.
Baltimore County

Baltimore County is big with varied demographics and is behaving well up to $1M, except the $400K-$600K segment, which is still in the sellers' favor but sliding. However, this is a move-up price range and is more sensitive to the school calendar/spring market than most, so we won't get too concerned. However, it is seeing inventory growth exceeding sales so at least some of the sellers want to buy up before the spring market price increases. Overall, the 2.8 months to absorb the existing inventory at the existing sales pace is very seller friendly. A high note was a $3.2M sale that added almost $4,100 to the average price and helps explain why the average price was up 3.9% while the median price was up only 1.7%. Townhouse sales were up 27% and single family detached sales were up 15%, again indicating the strength of the first-time buyer market segment. The volume was up over $42M from last year and $4.7M over November 2017. Realtors® closed 109 more transactions this year, and they also got 24 more contracts ratified. The median days-on-market is less than a month so there has been a market after Labor Day.
Anne Arundel County

Anne Arundel has successfully sold more homes with the least inventory since 2004. The inventory is down almost 20% in one year while November closings were up just over 13%, as were ratified contracts. About 85% of the growth has been in the townhome sector, which contributes to the average price falling 3%. Single-family detached prices also took a hit, but this was due to 2018 getting the benefit of a 5.4 million dollar sale. Overall the dollar volume was up 10.5% over November '18 and 4.6% over November '17. The market still favors buyers over $800K, but even at that price point there is improvement.
Howard County

Inventory is still Howard's nemesis with 13.3% fewer homes available for sale this year compared to last and 11.7% fewer than at the end of November 2017. The most severe inventory erosion is below $400K where buyers need track shoes to have much of a chance of getting a new listing under contract - the median days-on-market is 16 and that is influenced by sellers precipitating bidding wars and not signing contracts day one. The median sold price to list price is 100%, but that does not reflect that the average seller concession or contribution to closing costs averages $4,420 in this price range. Overall average prices seem to be stagnating, but it is due to all the growth in units being in the townhouse sector. Single-family detached average prices were up 3.4% year-over-year. The high end is not terrible, but it is not seeing the same lack of inventory relative to the number of buyers that the entry level market is.
Carroll County

Carroll closed her second house for more than a million dollars this year, which certainly helped the average price, but most of the activity is less than $600K with 10% of that activity being for newly-constructed homes. There were 30 more closings this November than last and 25 of those were single family detached, which also pushed the average and median prices up. Inventory is down 7.7% year-over-year, which has pushed the absorption rate down to three months, a seller-friendly number.
Harford County

Harford's 2018 market didn't take the same dive as the first layer of suburbia did last year, but they still improved this year, particularly by moving the seller-favoring price range up into the $600s where there were more than twice as many sales this year than last. Not to be different, Harford has inventory problems below $400K and overall has seen homes available for sale shrink 11.4% since last year. New pending contracts were up 3.8% so we should see the party continue.
As always, remember that real estate is hyper-local, so if you want to know how market forces are influencing the value of your home or your buying power, just schedule a no-obligation appointment to discuss your plans.