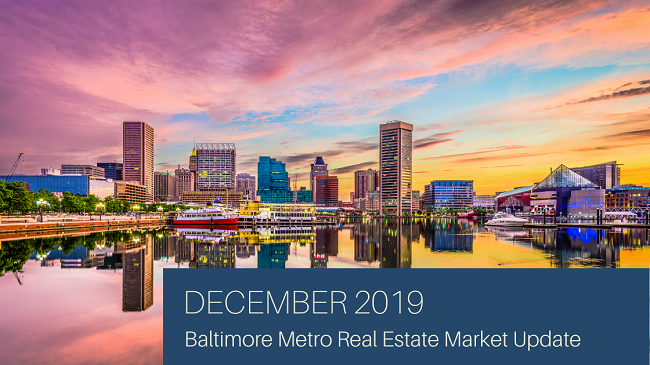 December 2019 Baltimore Metro Real Estate Market Update
Baltimore Metro
The Baltimore Metro area finished the decade with a winning attitude. Dollar volume was the highest ever for December, exceeding $1B for the first time, but the units closed had to settle for 4th place (3,143) behind 2004 (3577), 2005 (3191), and 2003 (3,178). However, to go along with December 2019's strong finish was the fact that the average and median prices topped the all-time charts at $322,705 and $278,000.
The downside was that more homes were sold than new listings. In fact, 29% more houses sold than were listed, further deepening our inventory challenges. Maybe the spring market change that dynamic – not fewer sales but more listings. We not only saw more closings but more new ratified contracts than last year as well.
The year-over-year absorption rate (inventory/sales=months to absorb the existing inventory at the existing sales pace) retracted 1.2 months to an extremely seller-friendly 2.4 months. The $200K - $400K price range is very tight at 1.9 months of inventory, creating strong headwinds for first-time buyers, and every price range got tighter up to $2.5M, above which nothing happened in December 2018 or 2019. These market characteristics have initiated an earlier spring market this year.
We have often said that jobs are the most important contributor to the health of the residential real estate market, but certainly interest rates have been a prime driver lately.
Baltimore City

It was a solid month for City sales, but not the record breaker that other Metro jurisdictions enjoyed. Closings were up 28% and dollar volume was up 26% over a not so good December 2018. Townhouses comprised 130 of the 161 additional sales, where we also saw a significant price increase of 5.4%.
The City contributed 23% of the Metro's sales, but 48% of City sales were for less the $200K, and the 504 closings for less than $200K were the most of any month all year. B'more does have the most inventory to sales absorption rate in the Metro, but under $300K there is only about 1.5 months' worth. Expensive properties are still languishing on the market. It would take a year to clean out the inventory priced above $600K at December's sales pace as long as nothing else came on the market. However, this price range usually enjoys a little more life in the spring.
In the meantime we'll just be happy that we have great first-time buyer and investor activity keeping the market energized.
Baltimore County

This December saw almost fifty-five million dollars (28%) more residential real estate change hands than last year due to 182 (26%) more closings. The 1.4 months on townhome inventory has been a brake on market activity, but all price ranges are doing well except for a little softness in the $800K - $1M segment. The average and median prices only moved up 0.5% and 1.25%, respectively, despite the diminishing impact of bank-mediated transactions, which were 8.8% fewer than last year and 47% fewer than December 2017. This is due to first-time buyers playing a bigger role in the market, particularly at the lower price points. The number of ratified contracts was up slightly and the inventory was down a significant 14.4%.
Anne Arundel County

Was there an end-of-the-decade sale? Anne Arundel had the most December closings since 2004, and the average price, $447,968, this year was $100K better than 2004's. All price ranges up to $2.5M favored sellers; $2.5M - $5M was neutral; and $5M+ was the only sideline observer. This activity, along with 5% more contracts, left us with the lowest inventory of any month since June 2005. Looking at just year-over-year numbers, volume was up 53%, units were up 35%, and average and median prices were up around 10%. Condos priced under $300K are the hottest commodity, with less than one month of inventory, and all first-time buyer products cannot keep up with demand.
Howard County

Howard's market is only about half the size of Anne Arundel's, but the performance was very close: volume up 50%, units up 34%, and prices up almost 10%, while the inventory contracted by about 27%. Under $400K there are only 27 days of inventory (pretty scary), and overall the absorption rate was 1.6 months. That means it would take 1.6 months to exhaust the present inventory at the present sales pace. He or she who hesitates is lost. Inventory does typically increase in March but so do sales, so the spring market will look a lot like the bubble years when the absorption rate remained below 2.0 months for a couple of years. There were 402 sales leaving a 400-home inventory in December 2003 for an all-time holiday low (or I guess high if you are a seller).
Carroll County

Carroll has the highest (most months) absorption rate of any of the suburban counties in the Metro, but the market favors sellers up into the $500Ks. The buyers rule above that point. The aggregated numbers look pretty good though with volume up 20%, closings up 15%, contracts up 8%, and inventory and days-on-market down 9% and 16%, respectively. Townhomes are the most competitive market with 1.4 months of inventory, but they make up only 13% of the overall market. Carroll is predominantly a single-family detached market with a few towns and even fewer condos.
Harford County

There were a lot of trophies to hand out this month, but Harford gets the big one. Harford not only sold the most homes ever in December, but also broke $100M in December volume for the first time. The market softens in the $600Ks, and above but that is a small part of the overall Harford market. The numbers: volume up 75.8%, closings up 47.6%, contracts up 10%, and inventory down 12.6%.
Summary
Overall, the spring market looks poised for a wild ride. Sellers will be favored, so buyers should be prepared to act quickly and present a strong offer. As always, real estate is hyper-local, so if you want to know how market forces are impacting the value of your home or a home you're interested in, contact us.