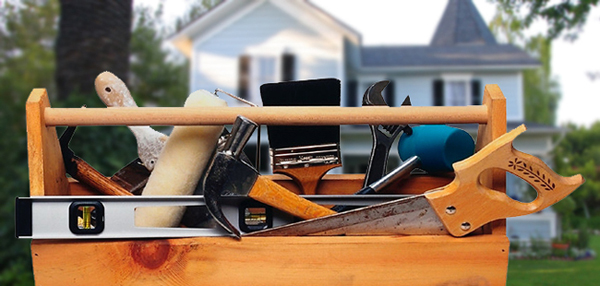 By Eugene Williams
When you buy your first home, you're suddenly responsible for all the little repairs landlords once handled. Make sure you're prepared for the task at hand by purchasing these 15 essential tools once you move in.
1. Tape Measure
You've heard the mantra "measure twice, cut once," but how can you be precise when you don't own a tape measure? Make sure you're cutting and drilling exactly where you want by having a tape measure handy.
2. Hammer
Whether you're driving nails or pulling them, this is one tool that will always be useful. A 16-ounce claw hammer is plenty of weight to handle most projects around the house.
3. Screwdrivers
This may be one list item, but you won't get away with owning just one screwdriver. For best results, buy both Phillips head and slotted head screwdrivers. The most common Phillips head screwdriver sizes are #1 and #2; for slotted head, you're most likely to need 3/16, 1/8, or 1/4-inch.
4. Drill and Drill Bits
Whether you're a handyman extraordinaire or just dabble in weekend projects, you're going to need a drill. After deciding between corded or cordless, pick up a set of quality drill bits. Not sure which kind you need? Check out this guide from Lowe's to narrow down the options.
5. Level
Rather than eyeballing everything and ending up with crooked family portraits, make a small investment in a reliable level so you know everything is on the straight and narrow.
6. Stud Finder
Hanging a perfectly-straight picture won't do you much good if it rips through the drywall after an hour. Purchase a stud finder so you can locate a secure spot to hang artwork, shelving, cabinets, and more.
7. Step Ladder
If you've ever found yourself precariously perched on a chair trying to access something out of reach, you need a step ladder ASAP. A sturdy step ladder makes all kinds of tasks easier, from hanging artwork indoors to pruning trees in the backyard.
8. Utility Knife
When it comes to opening boxes and frustrating clamshell packaging, you'll be grateful to have a utility knife handy. These box cutter-type knives have replaceable blades that make them easy to maintain. But since a knife is more than its blade, review the recommendations from Wirecutter before you buy.
9. Extension Cord
An extension cord is essential for working outside. Invest in the longest extension cord you might need; it's better to own just one than to sort through a tangled pile of various-length cords.
10. Saw
It's easy to get overwhelmed by all the different saws you can buy. Most homeowners are fine with just a handsaw, hacksaw, and circular saw, but if you fancy yourself a weekend carpenter, you may want to add a miter saw and jigsaw into the mix.
11. Saw Horse
Don't improvise a sawing surface and risk hurting yourself; make the small investment in a sawhorse to keep your home improvement projects safe.
12. Pliers
From crafts to plumbing, pliers help you grip just about anything. Needle-nose, locking, and slip-joint pliers will cover most household needs.
13. Wrench
An adjustable wrench is a blessing when it comes to basic repairs around the home, but it's not the only wrench on the market. Add socket wrench and Allen wrench sets to your collection and you'll be prepared for all sorts of assembly and repairs.
14. Toolbox
You're going to need somewhere to store all your new tools so they're easy to find. Pick up a plastic or steel toolbox with a removable tray for maximum convenience.
15. Safety Equipment
Last, but most certainly not least, ensure your toolbox includes safety gear like gloves, safety glasses, hearing protection, and dust masks to protect you from construction hazards.
These 15 items will equip you with a well-supplied toolbox, but there are some items a homeowner shouldn't mess with. Namely, electrical work should always be entrusted to professionals. Not only will you save yourself frustration and a potential catastrophe, but hiring a pro isn't necessarily that expensive either. Homeowners pay on average $148 - $431 for an electrician to spend four hours installing switches and fixtures, which is the most common electrical job for home remodeling projects.
Owning your home is a big responsibility, but it's a lot of fun too. As you hone your handyman skills with your new toolkit, you'll also be building a sense of pride and ownership in your new home.
Thanks to Eugene Williams at DIYDad.info for this article! Eugene has completed countless DIY projects over the last two decades and loves sharing his knowledge with others. Please visit his website for more information.